CHOCOLATE BAR PACKAGE DESIGN
The challenge was to design a brand of chocolate with a line extension with three varieties. The design had to demonstrate a connection to vintage packaging, and include information necessary by law to distribute edible food products. My initial inspiration drew me to consider my own experience choosing chocolate bars. Beautiful packaging and delicious chocolate have not always pleased me in the experience of eating a portion of the bar and then having to put the rest into a zip-lock bag. I wanted to design a beautiful package that could be resealed for later consumption. One chocolate bar in particular that inspired me is Mast Brothers' Chocolate. The packaging they use features traditional book jacket patterns and a bookplate style label for their logo and copy. I named my chocolate Casa, the first four letters of my last name, as it means house is Spanish and is an elegant name that is easily read and has a comforting connotation. With this I chose to use a simplified house shape for my logo lockup. I have a strong appreciation for hand lettering and desired to create my own calligraphy for the brand name "Casa". for legibility and a modern touch I paired the hand lettered logo with a light weight helvetica in all caps and generous tracking. After researching vintage packaging I decided I wanted to use traditional botanical illustrations, but instead of simply using someone else's artwork, I chose to isolate and trace different components of the cacao plant and tile the individual parts into a pattern. The color palate was established by adopting pastel and muted hues from vintage illustrations. The flavors are very personal choices. Basil, maple, and cardamom are all favorites of mine and not necessarily thought of as chocolate flavors. I made sure to include the flavor on each face of the package to avoid any disappointing surprises by the consumer.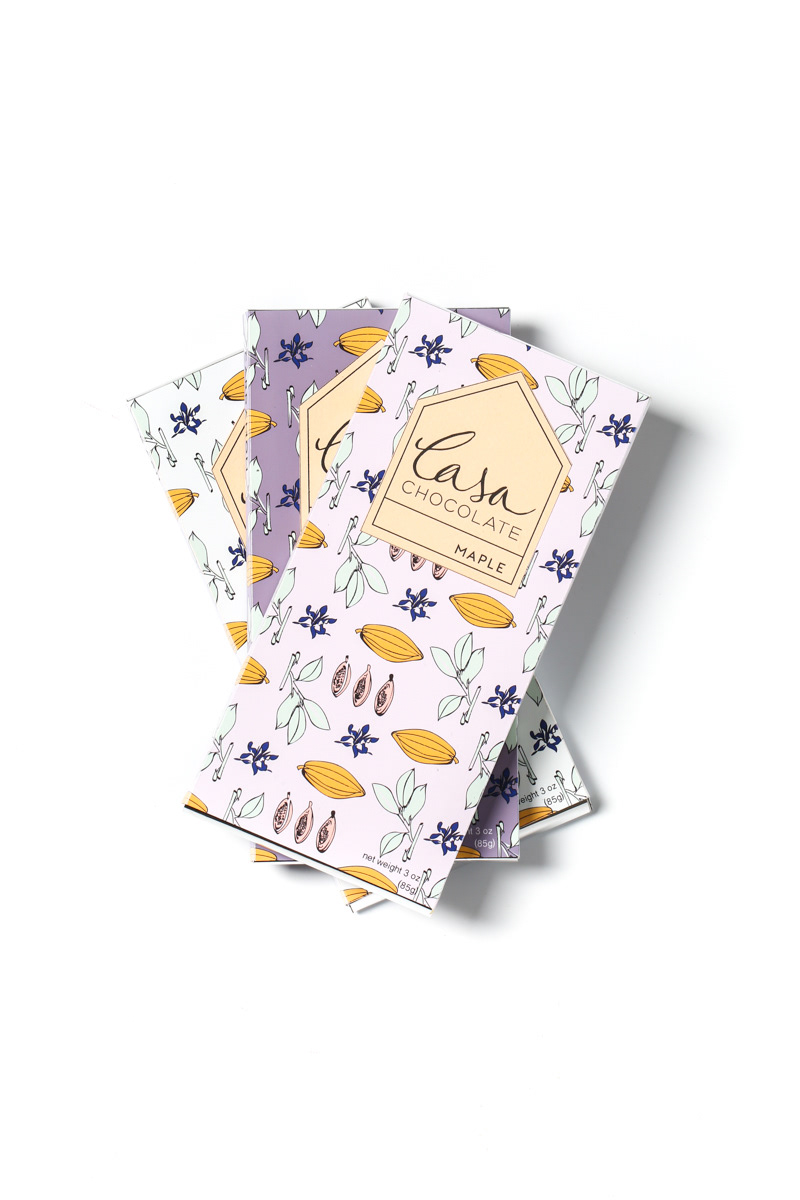 The pattern is composed of elements from the cocoa plant. Inspired by botanical drawings, I designed a step and repeat pattern hinting at the orgin of chocolate.
The chocolate bar is housed in a slim silver foiled box with a patterned paper sleeve. The logo is printed with thermography on a fine toothed paper.